COVID-19 Update

Our commitment to health, safety and security
Why our hotel is still a perfect and safe choice
Detailed overview of the measures we have taken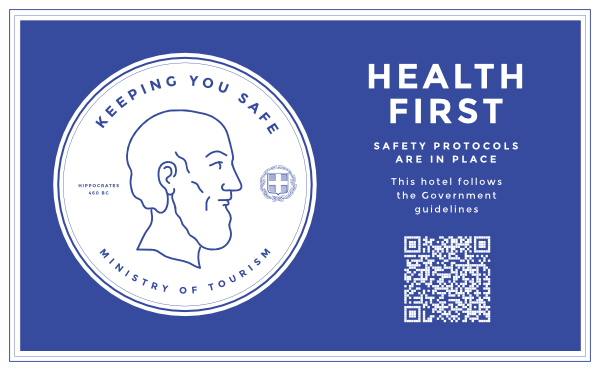 Our commitment to health, safety and security
Given this unprecedented situation of corona virus crisis, we have postponed the opening of Perivoli Country Hotel & Retreat for June 26, 2020. This decision was made in order to ensure that we are properly prepared to welcome you under the right conditions so that you will be able to enjoy your holidays with the maximum of safety and no stress.
Our main priority is health and safety for our guests, who trust us for their holidays, for our employees and for our associates.
To help you minimize the uncertainty regarding your travel plans, we have created this special COVID-19 webpage. Here you can browse and understand why Perivoli Country Hotel & Retreat is still a beautiful and safe choice for your next trip to the Peloponnese and what measures we have taken to make your vacation safe and easy.
We are continuously monitoring and following the changes in recommendations and guidelines from the government, local authorities and health organizations. We will continue working towards providing the best possible service, while safeguarding the safety and health of our guests, employees and colleagues.
Based on our anthropocentric culture and honoring the relationship of trust that we have built with our guests, we will make sure that Nafplio, one of the most popular and beautiful holiday destinations in Greece, along with Perivoli Country Hotel & Retreat are a safe place to be.

Why our hotel is still a perfect and safe choice
Perivoli Country Hotel & Retreat is located in a vast open area of almost 25 acres, surrounded by orange groves and olive trees and, away from urban everyday life, and yet only a 10-minute drive from the romantic coastal city of Nafplio.
Its strategic location makes it the perfect starting point for all of you who seek to be in an isolated and non crowded place and ensures easy access to all the important archaeological sites of the Argolis region – and to paradisiac beaches with crystal clear waters. All the archaeological sites and all the beaches of the Argolis region are fully open since May 17, 2020. You can explore them by clicking on our attractions map. The local market (shops, café, etc) is also fully open since May 25, 2020.
The internal and external public spaces, the lobby, the lobby bar, the restaurant and the swimming pool at Perivoli Country Hotel & Retreat are very large comparing with the maximum capacity of the hotel's rooms. Hence, all the necessary, because of corona virus, safety distances between our guests as well as our personnel are guaranteed.
According to our official licenses, the room's capacity is 29 persons while the restaurant capacity is 100 persons (44 indoor and 56 outdoor) and the lobby (including the lobby bar) capacity is 70 persons (20 indoor and 50 outdoor). At the same time, the size of the swimming pool is 105 square meters and the pool capacity, according to the latest government restrictions because of the covid-19, is 21 persons (1 person per 5 square meters).
Perivoli Country Hotel & Retreat is located at the Peloponnese, on the Greek mainland. It is just 2 hours driving from the Athens airport and the city of Athens where the most important and specialized hospitals (public or private) against corona virus are located. Because of our close distance to Athens, the access to integrated health services is easy and fast if needed. In addition to that, the Greek Ministry of Health has classified our area to the 1st category, which means that the risk regarding the COVID-19 is very low.
We would also like to add that less than ten (10) COVID-19 cases have been reported for the broader area of Nafplio (according to the latest official report) and we wish and believe that this fact will not change in the future. The local authorities and the citizens did an amazing job during the last 3 months and we, all, still follow strictly the hygiene guidelines that the Greek government applies against corona virus.

Detailed overview of the measures we have taken
Flexible room reservation terms and new offers
With sensitivity and responsibility, due to the economic implications of the current situation, we have made the policy of advances and cancellations more flexible in all bookings within the 2020 season, offering free cancellation up to 24 hours before your arrival for reservations and stays until the end of 2020 and for reservations which will take place from May 1, 2020 onwards. We are also offering free reprogramming and rescheduling options that are extended till the end of the season of 2021. Check our availability.
We have also created some brand new and very interesting offers for our guests, such as "free dinner", "extra discount for our loyal guests", "romantic dinner", etc. View our offers.

New health measures and safety procedures
For 10 years, Perivoli Country Hotel & Retreat has placed an unwavering focus on the wellbeing of our most valued guests and colleagues in our property. We take pride in maintaining the highest ratings of cleanliness and hygiene all these years by our guests (e.g. Booking 9.6/10, Expedia 5/5, Hotels.com 5/5, TripAdvisor 5/5, etc). Rest assured that this focus will be even more important and strict during the current corona virus crisis.
At Perivoli Country Hotel & Retreat we adapt our operation considering the new safety standards & hygiene protocols in accordance with the recommendations and guidelines by the World Health Organization and the Greek Government.
To ensure that our sanitary measures are exceedingly sufficient and according to the Greek government guidelines, we have been certified by Hellenic Chamber of Hotels with the certification "HEALTH FIRST". This certification has been created in order to guarantee that the appropriate safety standards and cleaning protocols are in place to allow Perivoli Country Hotel & Retreat to reopen.
Should you have further questions about our safety procedures and making a reservation, please do not hesitate to contact us.

Our Staff
Every staff member will comply with the WHO hygiene and safety protocols (hand cleaning, antiseptic, keeping distance, etc) and has received expert training on our rigorous cleaning regime and operating practice. Extra attention is given on hygiene measures and the latest information of corona virus. All staff members have been trained on hygiene protocols and management of potential incidents.
In addition, we have formed a disinfection team that will be responsible to supervise the overall operation of our hotel as well as the cleaning of the rooms according to the latest authorities' guidelines and will specialize in cleaning and disinfecting rooms with suspicious or confirmed cases of corona virus.
We will conduct temperature checks of our employees every day with infrared thermometers.

Rooms
A welcome package with personal products and kit, a cleaning kit with an antiseptic and tissues and of course candies and soft drinks will be waiting for you!
Every additional, not basic equipment, like laundry bags, bathrobes, decoration pillows & covers, etc will be removed and will be available only upon request.

Reception Services
Arriving guests will be provided with sanitizers and the reception area will be disinfected frequently. The key-cards will be sanitized using the UV sterilization method. 
We love to greet and serve our guests; however during these circumstances we invest in technology for contactless solutions, where possible, designed to cater those who prefer no physical or material contact.

Cleaning & Housekeeping
According to our availability, check out time will be at 11.00 and check in will be at 16.00 in order to have additional time for the thorough cleaning and sanitization of the rooms. Alternatively, rooms will be left unoccupied for at least 24 hours before they welcome the next guests and check-out/check-in time will remain the same (12.00/14.00). Please let us know your arrival time in advance in order to avoid any delay and serve you with the best possible way.
The cleaning and tidying up of the room during our guest's stay as well as the change of the bed linen and towels will be done every three (3) days (for stays more than 3 days) or upon request and our housekeeping staff will be accessing the rooms, wearing PPE at all times.
In all cases, only COVID FREE certified products will be used and cleaning in high temperature of all bedding and pillows will be applied.
A rigorous cleaning regime and thorough sanitization practices will also apply of all public areas and high-touch spaces during the day.

Gastronomy / Food Safety Standards
We have increased the frequency of compliance checks of our food safety standards and the cleaning and disinfection of the kitchen and storage rooms.
Since gastronomy is highly valued and appreciated by our guests, our certified Greek Breakfast will be maintained. Depending on the degree of occupancy, it will be a breakfast buffet, where there will be more individual portions as well as packaged products or it will be an a la carte menu serving you individually.
Additionally, in our restaurant, starting from this year, we will offer you delicious farm-to-table menus created with seasonal and organic ingredients from our own fruit gardens, from the wild and pure Greek countryside and from organic local producers. 
Additional safety measures, which must be followed by both guests & employees, will be also introduced. Ηands' disinfection will be mandatory upon entry.
Breakfast (07.30 – 10.30), lunch (13.00 – 15.00), dinner (19.00 – 22.00) and Sunday pool brunch (12.00 – 17.00) operating hours will not be changed due to the fact that the capacity of our restaurant and pool is much bigger than the hotel room's capacity, as it is explained in above paragraphs. However, pre-booked time slots will be adhered to, in order to be sure that social distancing will be kept.
All restaurant and bar seating areas will comply with government's social distancing measures and all employees in the kitchen and restaurant will use personal protection equipment (masks, gloves, sanitation products) and will apply strict hygiene and distance measures.
Only a breakfast basket with certain products will be available for guests who prefer breakfast in their room and only upon request.

Swimming Pool
The frequency of cleaning and disinfection of our pool area will be increased and disinfectant products suitable for the current situation will be used for the water.
A hand sanitizer system at the pool shower will be available and the deck chairs and hummocks will be disinfected frequently.
The large areas of the swimming pool deck area allow even longer distances of umbrellas / sun beds that those specified.

Guests Care & Medical Support
We will avoid overcrowding in all common areas. Hand sanitizer will be available and we will encourage frequent use for staff and guests alike. Masks will be available upon request. Infrared thermometers will be available at the front desk to conduct temperature checks of our guests upon request. Visiting guests or/and friends of our guests will be allowed at the hotel public areas (not in the rooms) with prior notice and communication with our reception.
Dear guests, please help us to keep yourselves and ourselves healthy and safe following the below guidelines:
Regularly and thoroughly clean your hands with an alcohol-based hand rub or wash them with soap and water.
Avoid unnecessary contact.
Avoid touching eyes, mouth and nose.
Cover the mouth with the elbow when coughing and sneezing.
Keep at least one and a half meter (three feet) distance between you and others.
According to official government notice, Perivoli Country Hotel & Retreat has established:
Appointed doctor near the premises.
Direct communication with Nafplio hospital.
A response plan in order to be able to isolate any potential incident at our hotel. All guests will be notified accordingly.
An electronic file of all the individuals staying in the hotel – name, nationality, passport / ID number, arrival and departure date, contact details (address, telephone, e-mail) – so that it is possible to communicate with close contacts in case of a case of COVID-19, which can be identified afterwards, in accordance with the General Data Protection Regulation (GDPR). This file is kept for reasons of public health protection and is compulsory.

Services Not Available
Unfortunately, due to the corona virus crisis the following services will be not available at the moment:
Aperitivo hour.
Cooking lessons.
Wine tasting.
Wellness services (massage, hatha yoga, pilates and aqua aerobic).

Thank you for your continued support and diligence in ensuring we move into a brighter future as soon as possible.
---
Last updated on June 5, 2020.